When I travel I tend to choose to stay in Airbnbs over staying in hotels. Although you don't get the same amenities and services staying in Airbnbs, sometimes the price to location ratio makes it worth it.
On average, I've found it to be cheaper to stay in Airbnbs in super central locations than hotels. The average quality of stay is usually nicer for a better price in major cities as well. Other than my amazing stay at the Royal Lancaster Hotel in London and the very gorgeous (but uber expensive) stay at Hotel Marincanto in Positano, I strictly stayed in Airbnbs throughout my entire Europe trip this October!
As I promised on my Instagram, I am sharing every Airbnb I stayed in across Europe and my review on each place! I stayed in 4 Airbnbs across London, Berlin, and some cities in Italy so this will be a comprehensive review of all 4. Read on if you want to see where I stayed!
London
Location
Before heading to my stay at the Royal Lancaster Hotel, I actually stayed one night in an Airbnb in London. The Airbnb I picked was in an area called Pimlico. It's known to be an upscale residential area with quiet streets, just a little bit away from the hustle and bustle of the city. There are quite a few hotels in the area and many little cute cafes, old school pubs, and hip restaurants.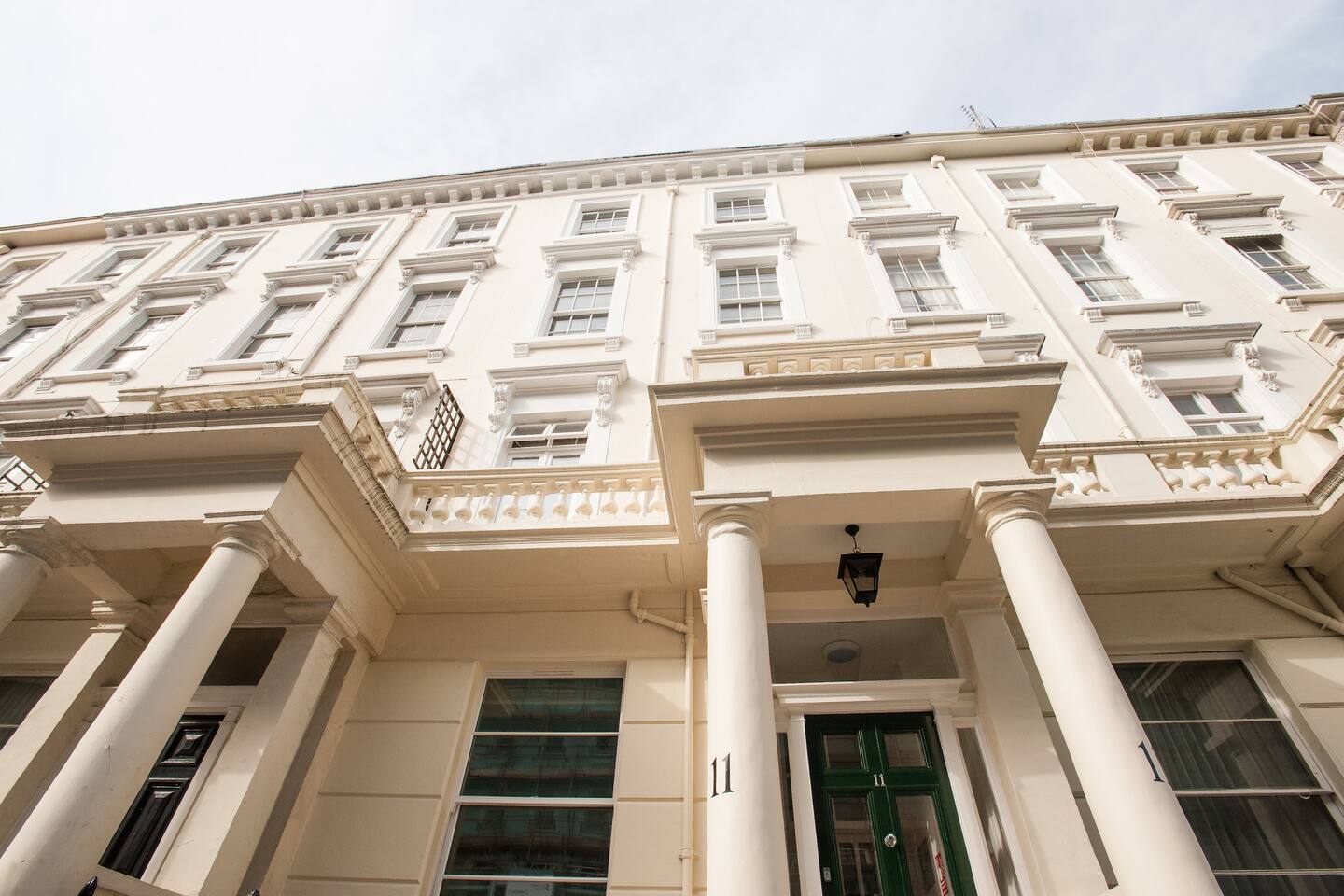 It's walking distance (about 25 minutes) to some of the famous landmarks and tourist attractions in London like Big Ben, the London Eye, and Buckingham Palace. It's also 8 minutes away from Victoria Station where you have access to 3 different tube lines (Victoria, Circle, and District lines).
The Space
The Airbnb itself was small but livable. The layout was a little strange to me at first, with the bedroom being right upon entrance and the kitchen + patio being upstairs. But for the price, I think small flats like these are quite common in London.
I didn't mind the overall size of the flat, but I did find the washroom to be a little too small even just for myself. The sink was very tiny, without much space for me to store any skincare, soaps, etc. And the shower was big enough for me to shower properly, but since it was a rainfall style shower, I had no choice but to get my hair wet. I would've preferred a little more space in the shower to move around.
Another slightly strange part of the space was the stairs that led to the second-floor kitchen + patio. The stairs were super narrow and very steep. If you are someone with mobility issues, this would definitely NOT be a good Airbnb option for you. I did know about it beforehand, as a lot of the past guests noted it in the reviews. That's why it's SO important to read reviews before you book Airbnbs!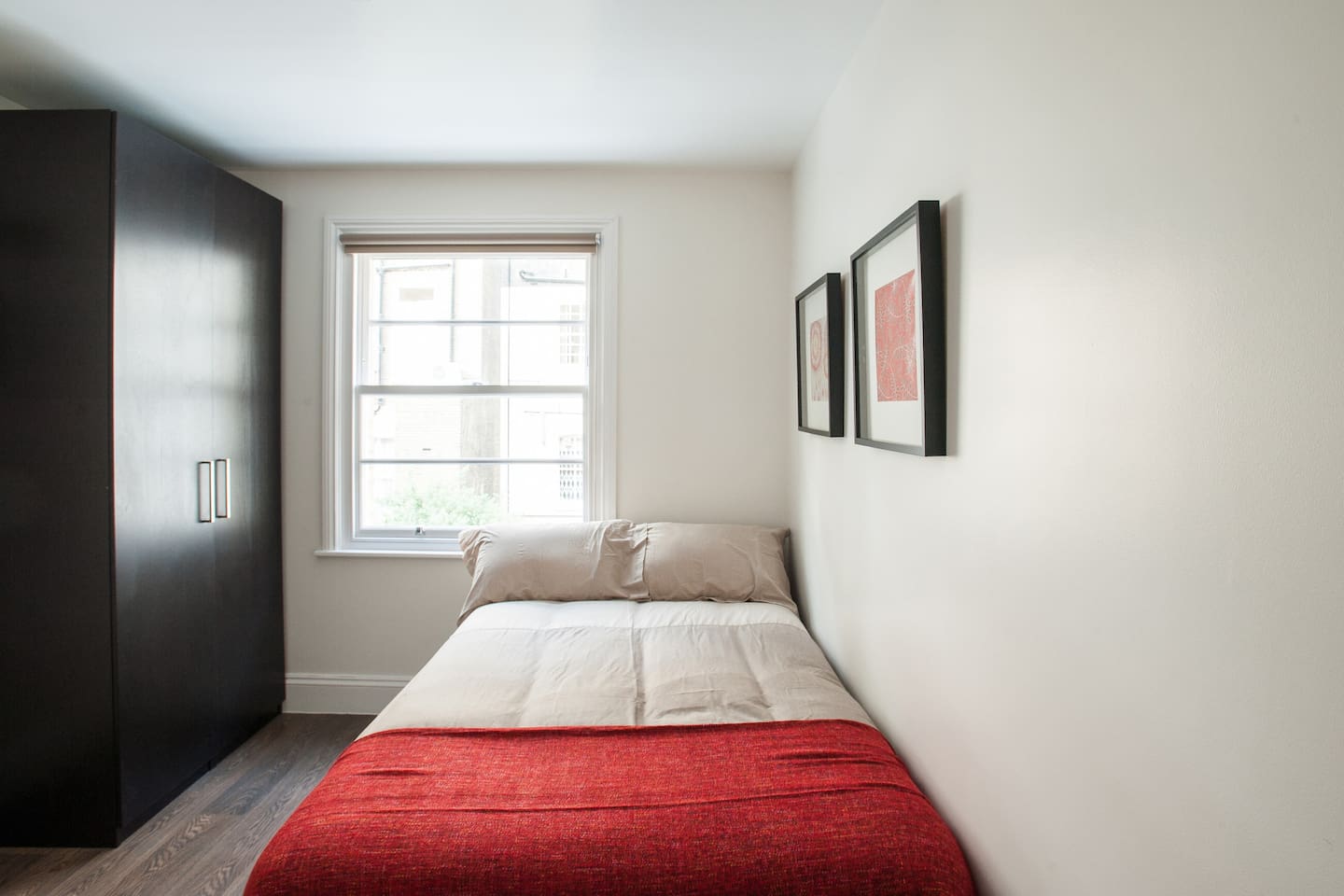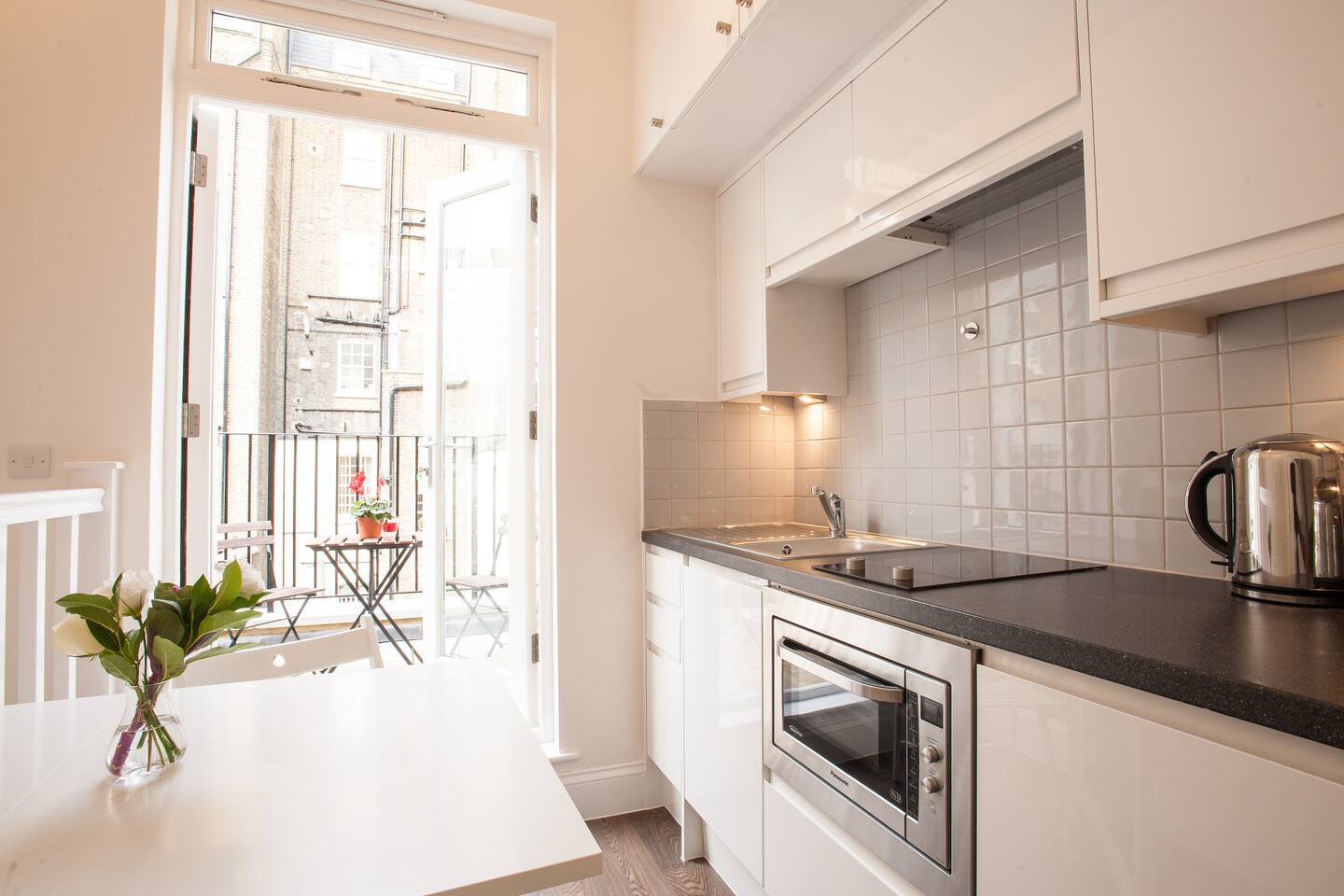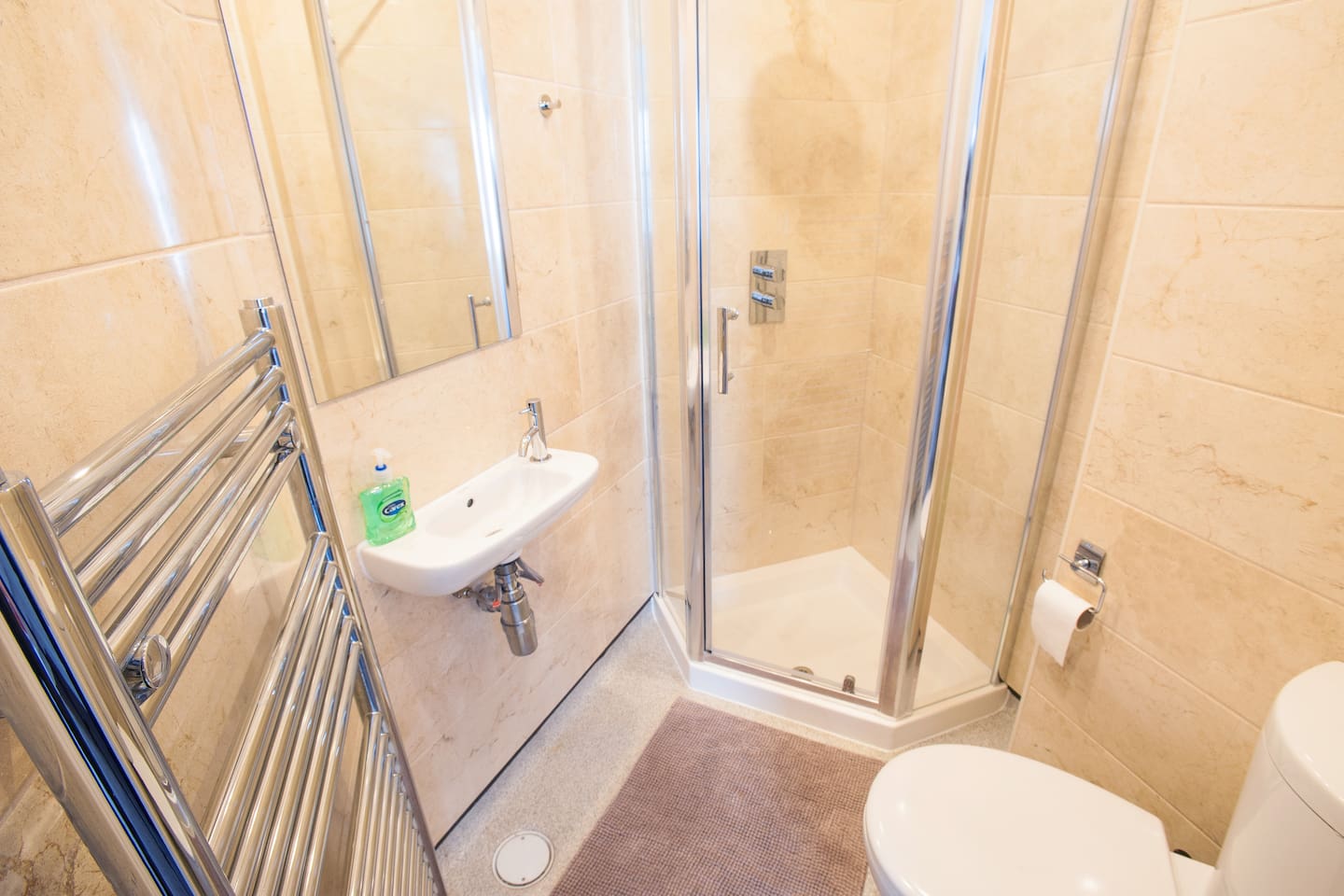 The selling point for me was definitely the little patio upstairs. When I saw it in the listing, I thought it was the perfect location to snap some photos and to enjoy a morning coffee. Sadly, the day I was in London was quite dreary and rainy so I wasn't able to make use of the patio. However, I think the summers in this flat would be super enjoyable for this reason.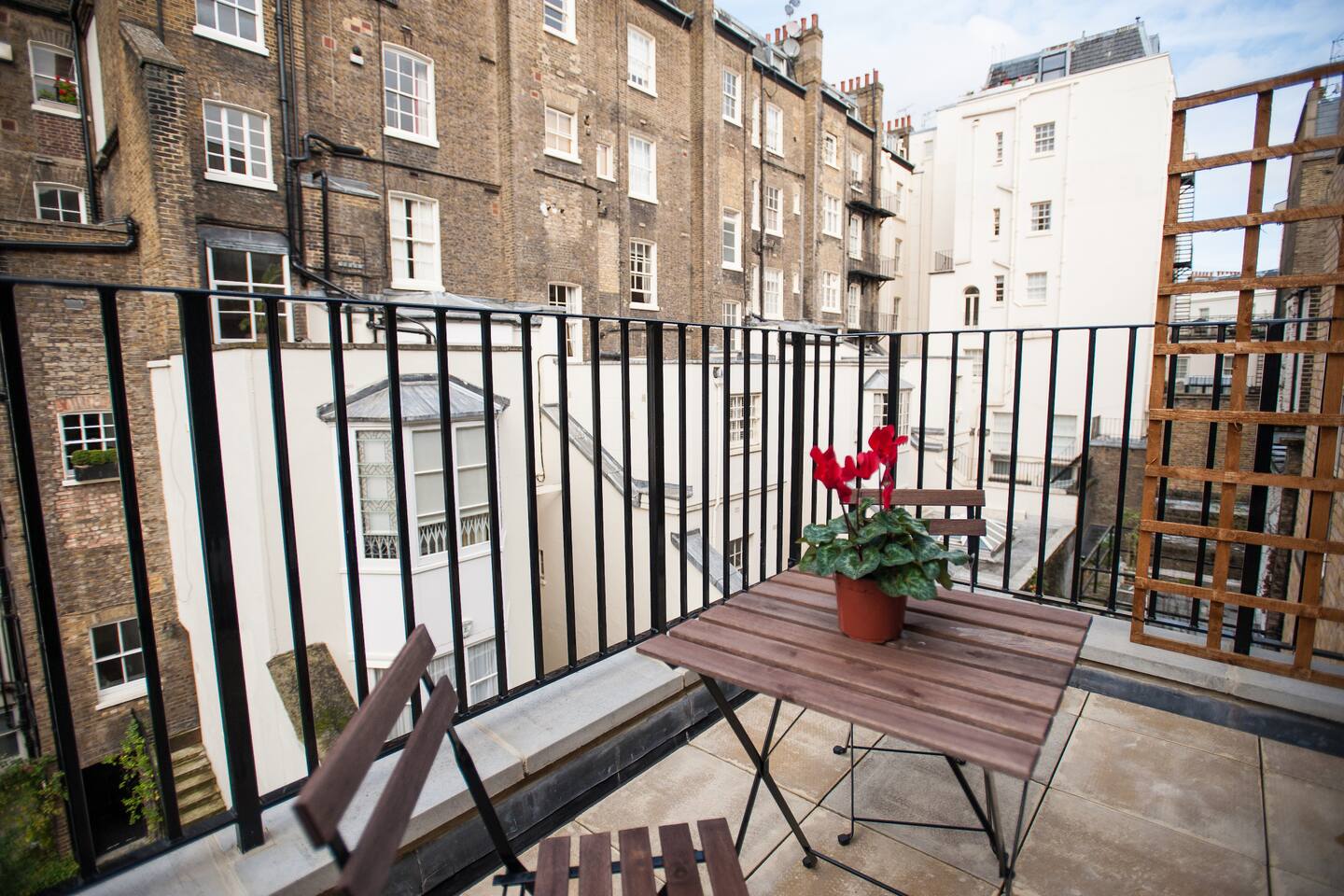 Value
This Airbnb is listed at $154 cad/night which seems a decently average price for the area. The average rates in Pimlico, according to Airbnb.com, ranges from around $100 to $500 a night. There are a lot of slightly bigger and more luxurious options around the $200-300 mark. But at that price, you could opt for a stay at a hotel instead and get the extra service + amenities. When I stay at an Airbnb, I make sure the rate makes sense compared to the hotel rates nearby.
Overall, I'd probably give this place a 6/10. This is the only Airbnb I've stayed in in London so I can't really say how it compares to other flats in the area. However, as a whole, the space was just slightly too small for me. I would've been happy to pay $50 extra to stay in a place that has a slightly more accessible layout. But, for a single traveler, this could be a good option as it's on the lower side of the average rates in the area.
There are some really cool spaces in London but since I was only looking to stay one night I didn't try that hard to find a place to stay. I mainly looked at places in the area since it was close to where I needed to go during the day. But I think it's worth spending some extra time browsing for apartments as you mind find a gem or two for a good price.
Berlin
Location
We knew we wanted to look for a place in Mitte while staying in Berlin, as that's where you can find a lot of the government buildings and monuments that we were looking to see. However, what we didn't know is that Mitte is a HUGE area.
Being Berlin's central borough, it's known for being the home of the Brandenburg Gate, Museum Island, and many other famous monuments and government structures. Mitte consists of six sub-entities: Mitte proper, Gesundbrunnen, Hansaviertel, Moabit, Tiergarten, and Wedding.
Our Airbnb is just right between Brunnenviertel and Wedding and was walking distance to two different transit stops, U Naturkundemuseum and Oranienburger Tor.
We chose this location because it is walkable to most major sites we were trying to see and it's known to have a lot of cute restaurants and cafes.
However, do keep in mind that Mitte truly is huge. "Walking distance" from our Airbnb was sometimes 30-50 minutes (which we were okay with because that's how we prefer to see the city).
The Space
I thought the space in this Airbnb was absolutely amazing. It was VERY spacious, especially compared to the first Airbnb in London. But just in general, for a one-bedroom in a major city, this was one of the most spacious that I've stayed in.
There are these giant balcony windows/doors that open up to a small garden, which we could also use. This lets in a lot of light during the day which made the living space super enjoyable. I LOVE bright rooms and the living room definitely lived up to that.
The washroom was SUPER light and clean, which I really appreciate. There was also a washer and dryer there which was great for us since we had a 2-week and tons of laundry. The bedroom was also quite spacious. It's its own separate room with a door, and there was closet space and a full-length mirror (which you would think should be quite common but SO many Airbnbs I've stayed in DON'T have them).
There's also a little kitchen + full-sized fridge which allows for some cooking if you had a longer stay (or just wanted to save money from eating out!).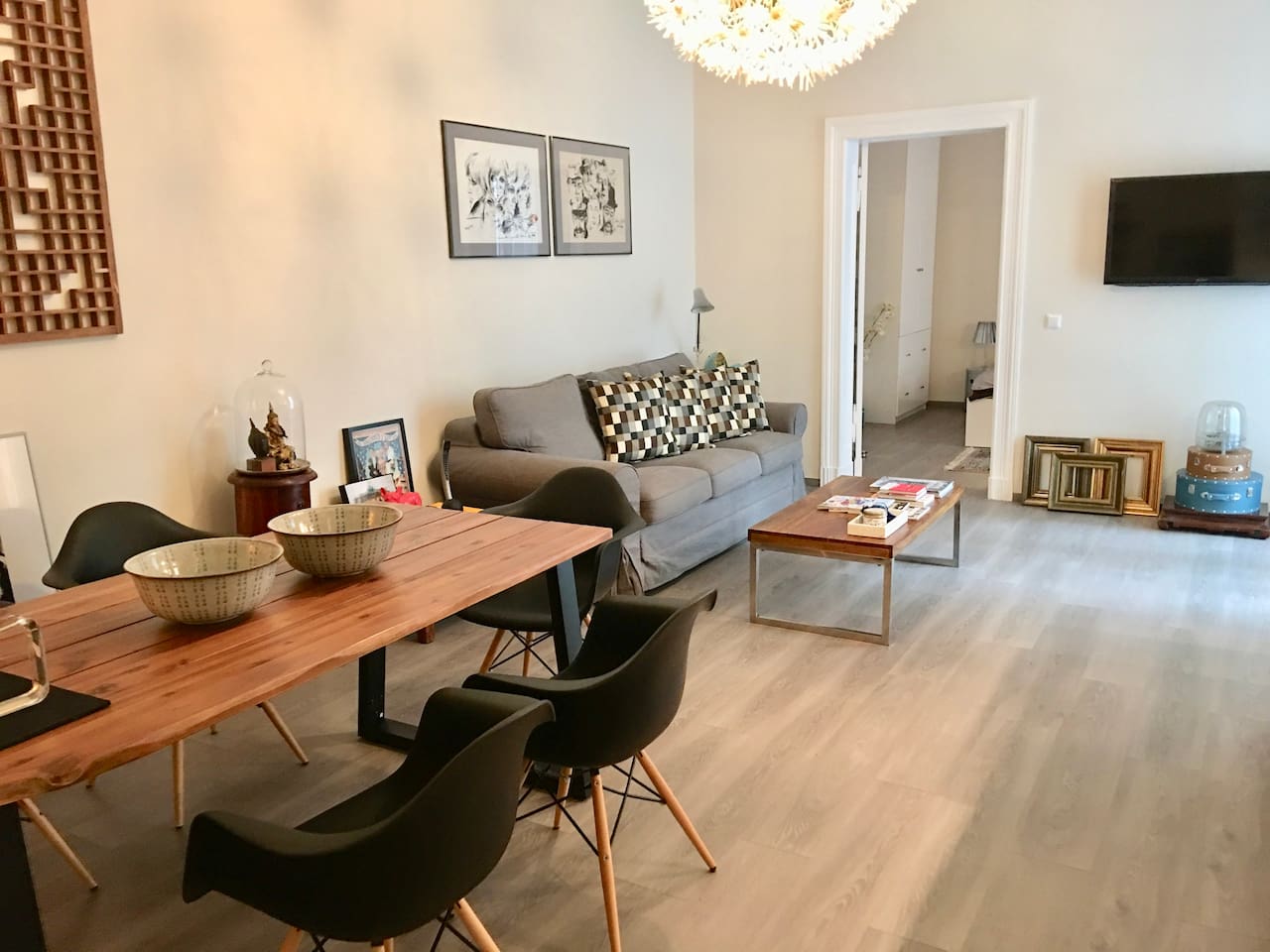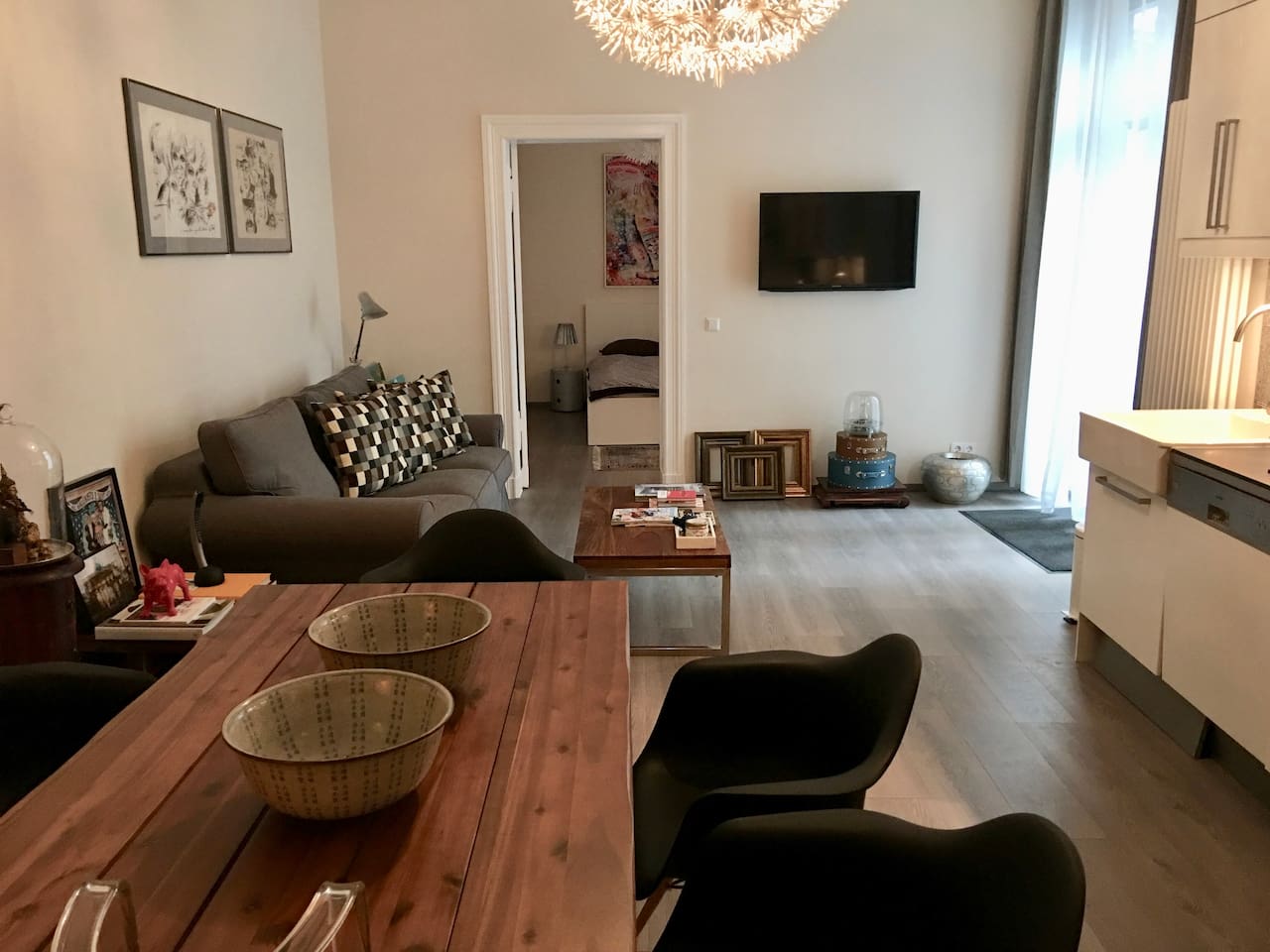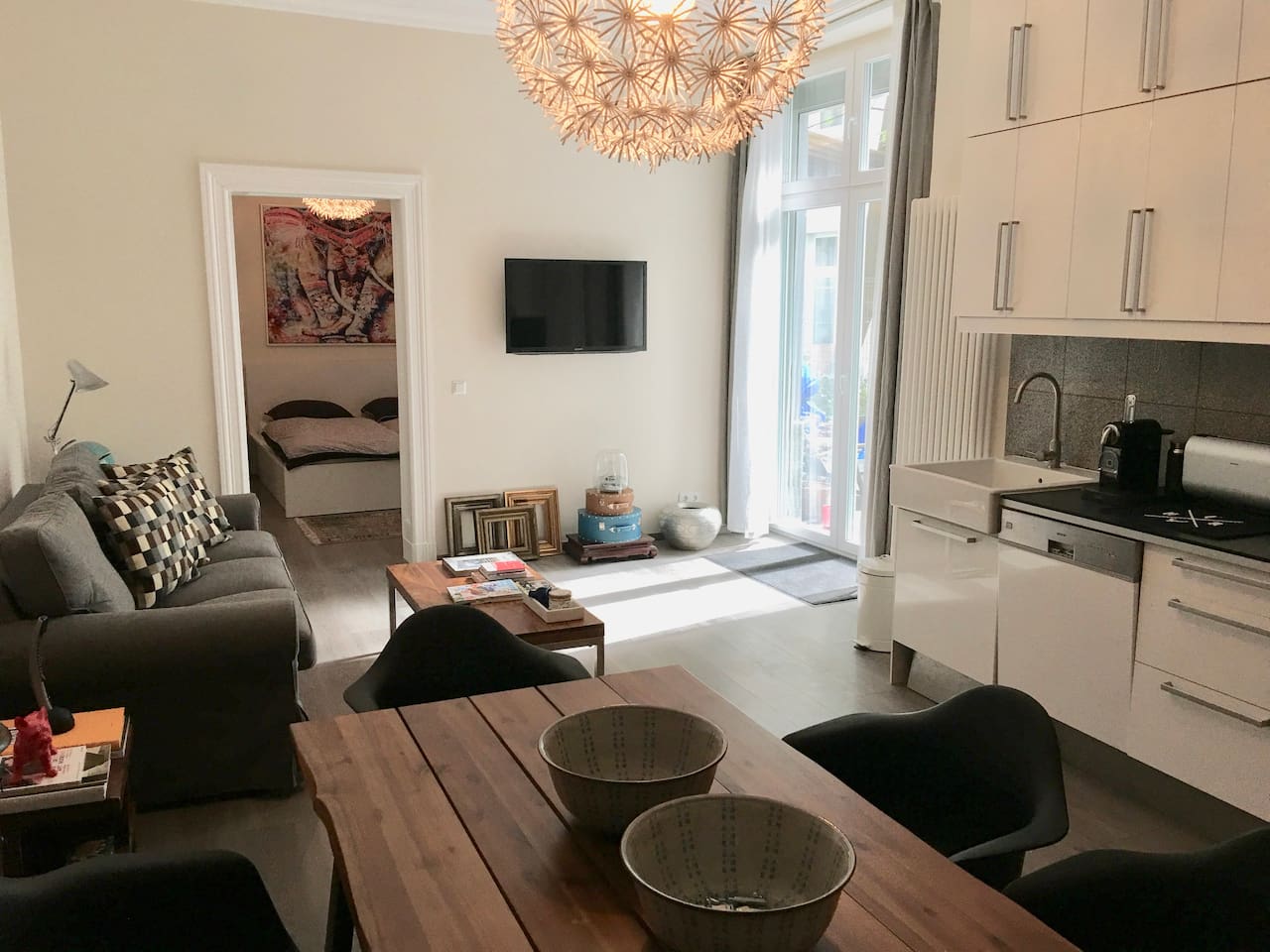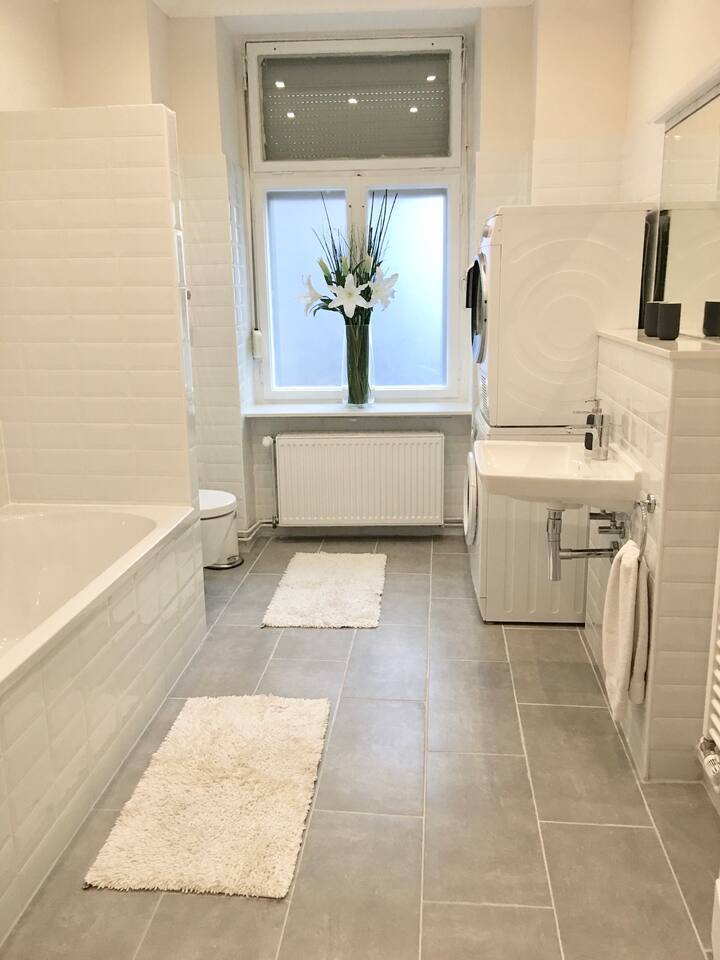 Value
This place was SUCH good value. The average price range for Airbnbs in Berlin was around $50 – $300. So in general, seems like Mitte is a decently affordable place to get Airbnbs. Not sure about the average cost of hotels because we didn't even consider hotels here but might actually be quite affordable too.
We paid about $115 per night for our space in Berlin, which was still very affordable especially considering the location of our Airbnb and the size.
The space was clean and very big. It actually had amenities that some other places I've stayed at don't (like the washer) and the location was very central. So overall I would give this place a solid 8/10. However, they show a dryer in the photo, which for some reason wasn't actually there in real life which we thought was a little bizarre. Also, they didn't provide laundry detergent so we just went out and bought our own. Which is totally fine, but it would've been nice if that was provided.
Florence
Location
Our Airbnb location in Florence was amazing. We were 200 meters from the Dome and 100 meters from Museo dell' Accademia where the statue of David is. The building itself was built in the 400 century and belonged to the Merciai family. The second floor where our flat was used to be the private family chapel. There are religious frescos on the ceiling of our bedroom so I think the host kept some of the original pieces of the building as inspiration.
The Space
The flat itself was absolutely stunning. Our host is an architect so she has the place beautifully designed. However, some corners of the flat still had the original rock wall peeking through which I thought was such a neat part of the place.
Although this space was not as big as our place in Berlin, the double volume space in the main living room where the dining table is made it feel very spacious. For the two of us, it was ample space.
There is a bedroom, two washrooms, and two living spaces. She built a little loft situation in the flat so that there actually can be another small open concept bedroom upstairs. While we stayed there she had a pull-out couch there so it just stayed as a second living space for us.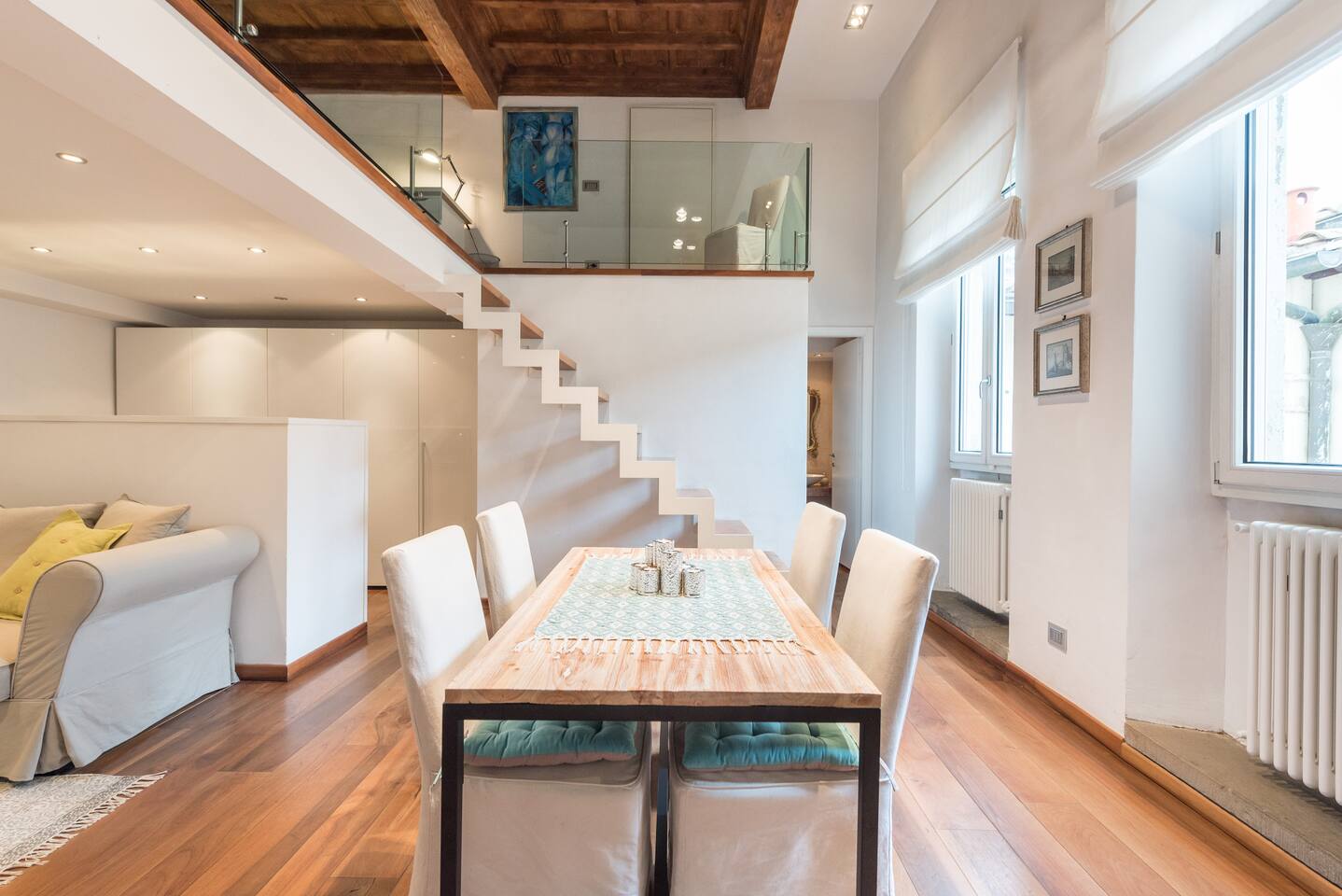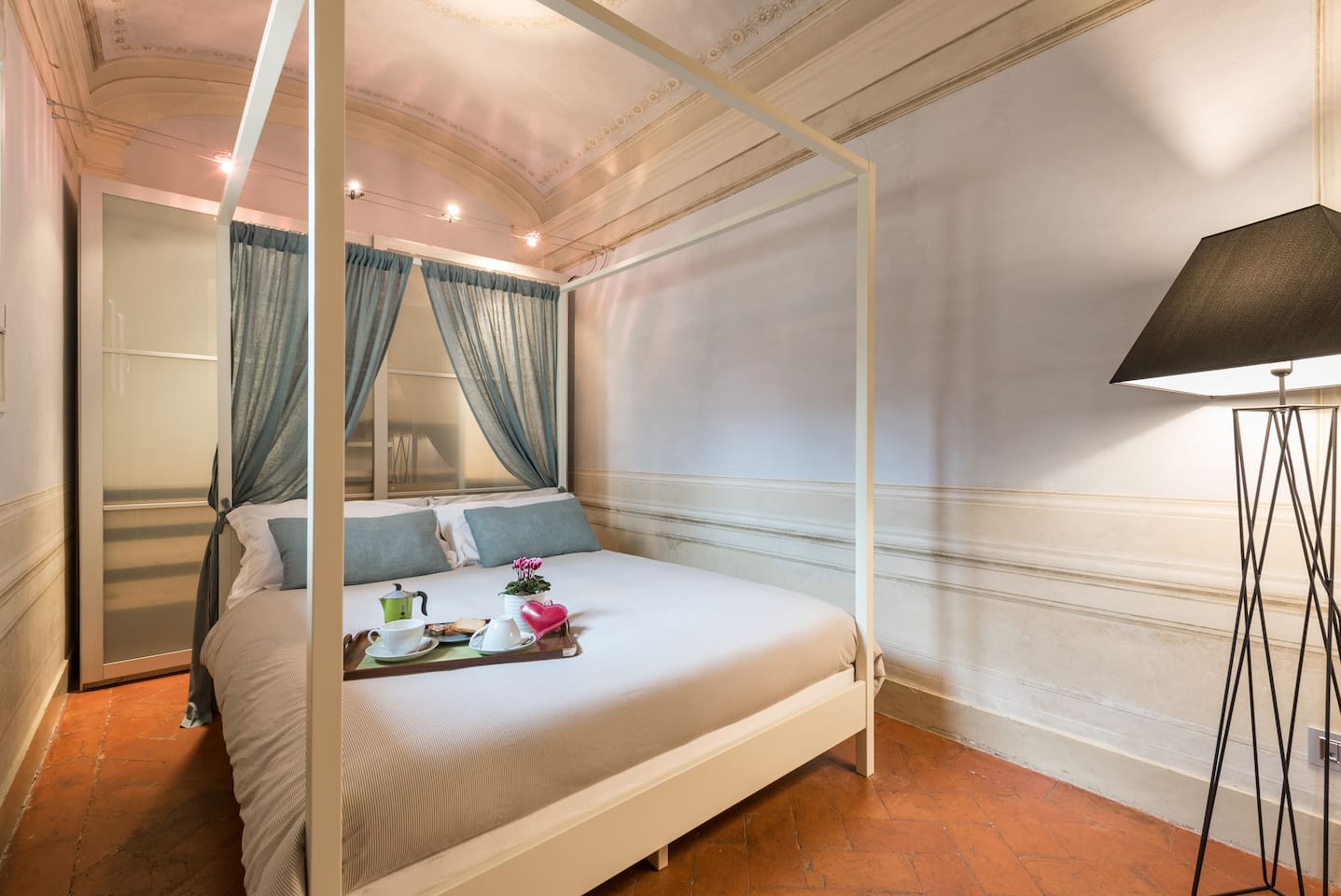 The flat was also beautifully decorated with matching blue accent pieces all throughout. We thought the shower was a stand out feature of the flat—it was a tiled, cave-style shower with a rainfall showerhead. It also had the ability to transform into a tub, however, it requires a LOT of water to do so which makes it slightly less appealing to take a bath.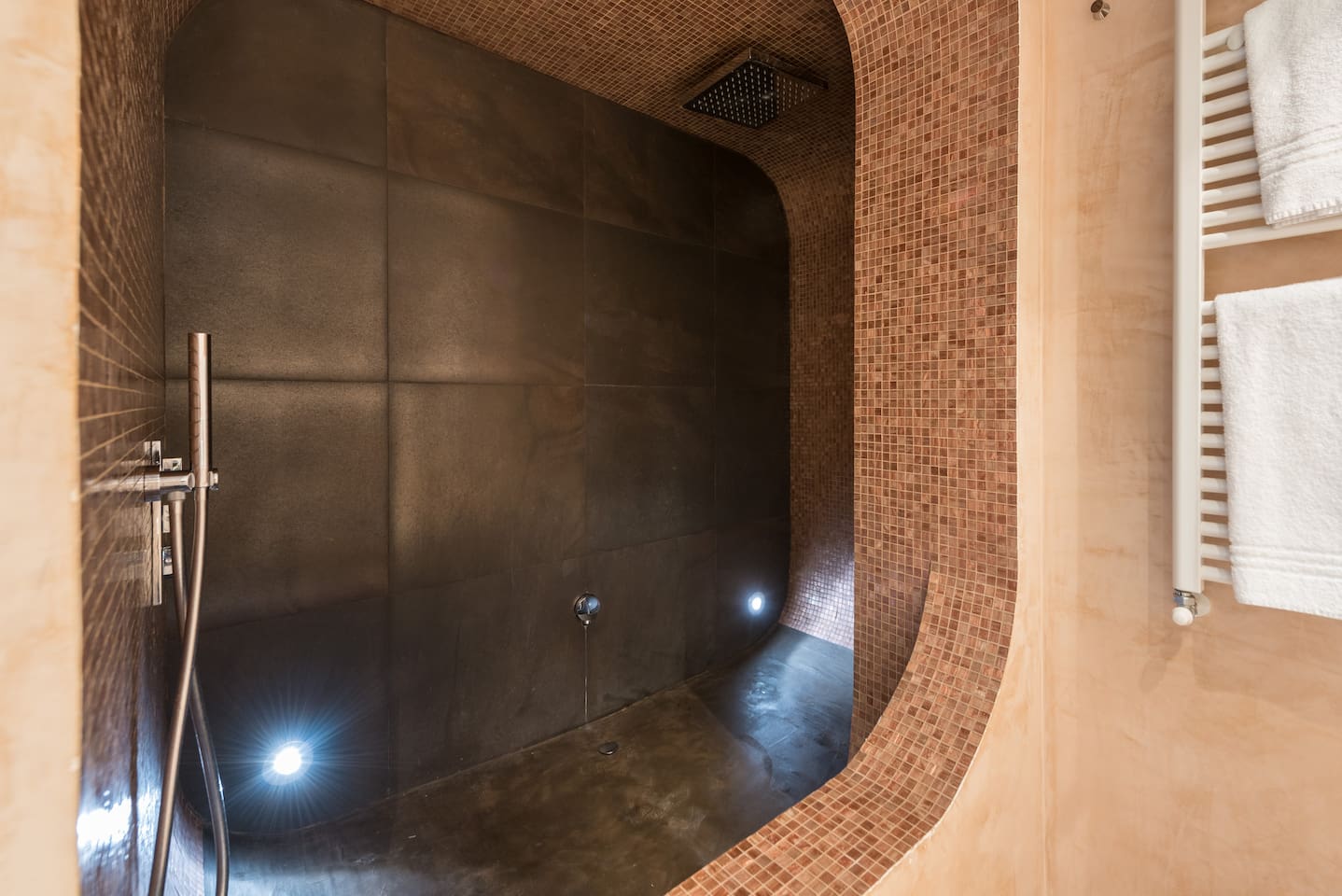 Value
Another place with AMAZING value. We paid around $117 cad/night and stayed here for 4 nights. We used Florence as a home base and traveled to Venice and Bologna on day trips because we heard that staying in Venice was a lot more expensive. And I'm super glad we did! This place was a great price and Florence itself was a lot quieter and less hectic than Bologna and Venice.
The location was super central (although Florence is quite small so anywhere in the center of the city is going to be a great location) and space beautiful. I would be happy to stay here again if we ever came back to Florence. Our host was also incredible and made sure we had everything we needed for our trip.
Rome
Location
Our Airbnb in Rome was in Monti, an area right smack in the middle of the city. Located right by the Colosseum and the Fori Imperiali, it was the perfect area to stay where it was super easy to get to and from most of the attractions we were looking to see in Rome.
The street that we were located on, Via Urbana, hosts a lot of wonderful little cafes, restaurants, and vintage stores. Although it seemed like most of the restaurants we were looking at specifically were located in a neighbouring area, we were still super glad we chose this location for our trip.
The Space
Our flat was around 70 square meters big was which plenty of space for the two of us. The flat is located in an 18th-century building, but it was recently renovated and felt really new and modern. I loved the concrete floors and the exposed wood ceilings, I thought the aesthetics of the place was absolutely amazing.
Although there were a few notable spots around the apartment (such as the STUNNING kitchen space), my favourite part of the space was definitely the hammock. Our host hung a hammock diagonally in a corner of the main living space, right by the window. With the windows open, this was the most perfect spot to kick up your feet and relax after exploring all day.
Although it was nearly 26/27 degrees Celcius while we were there, the space still felt really cool. We went in October, so the nights cooled down quite a bit. But even during the heat of the day, we never felt like it was too hot in the apartment.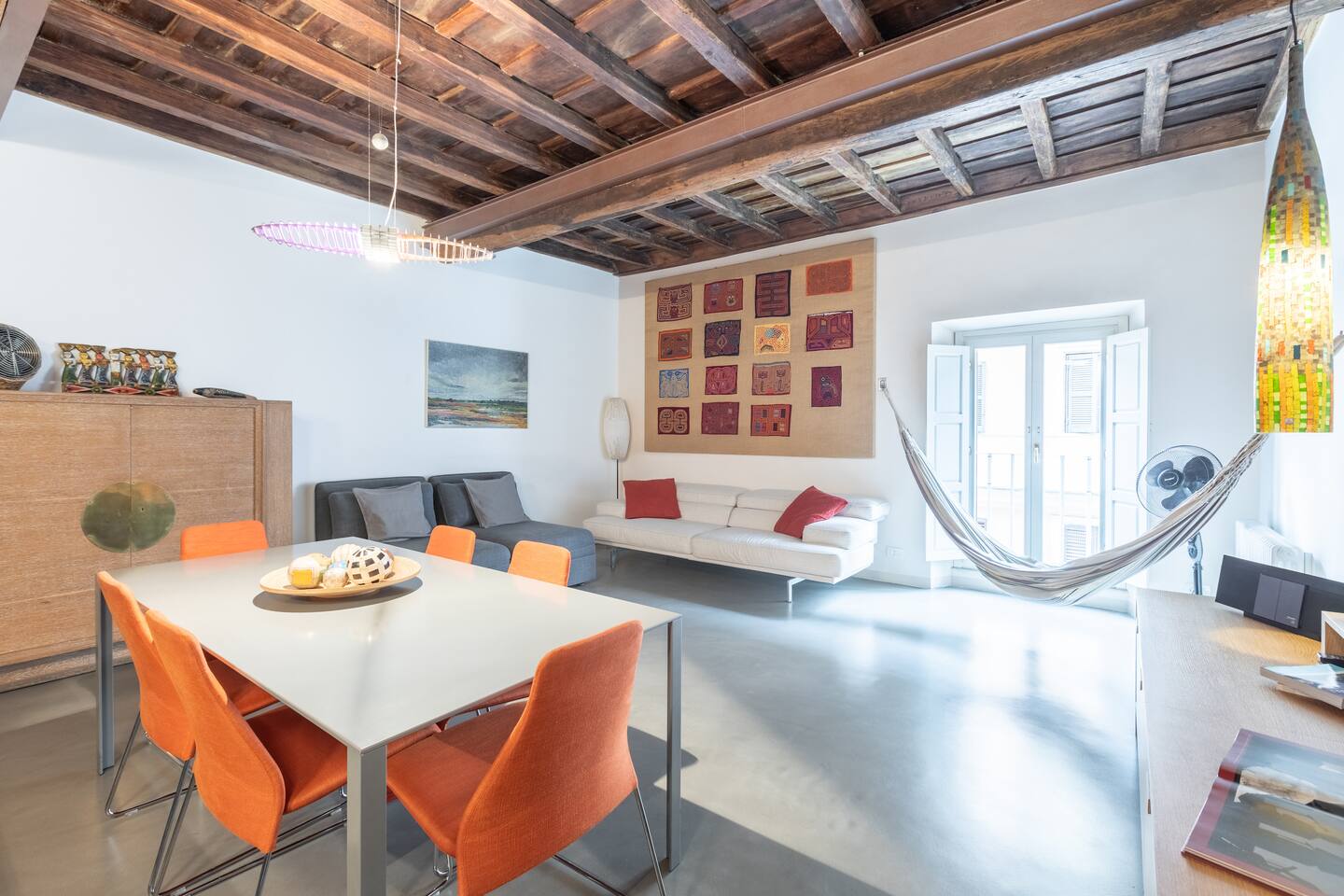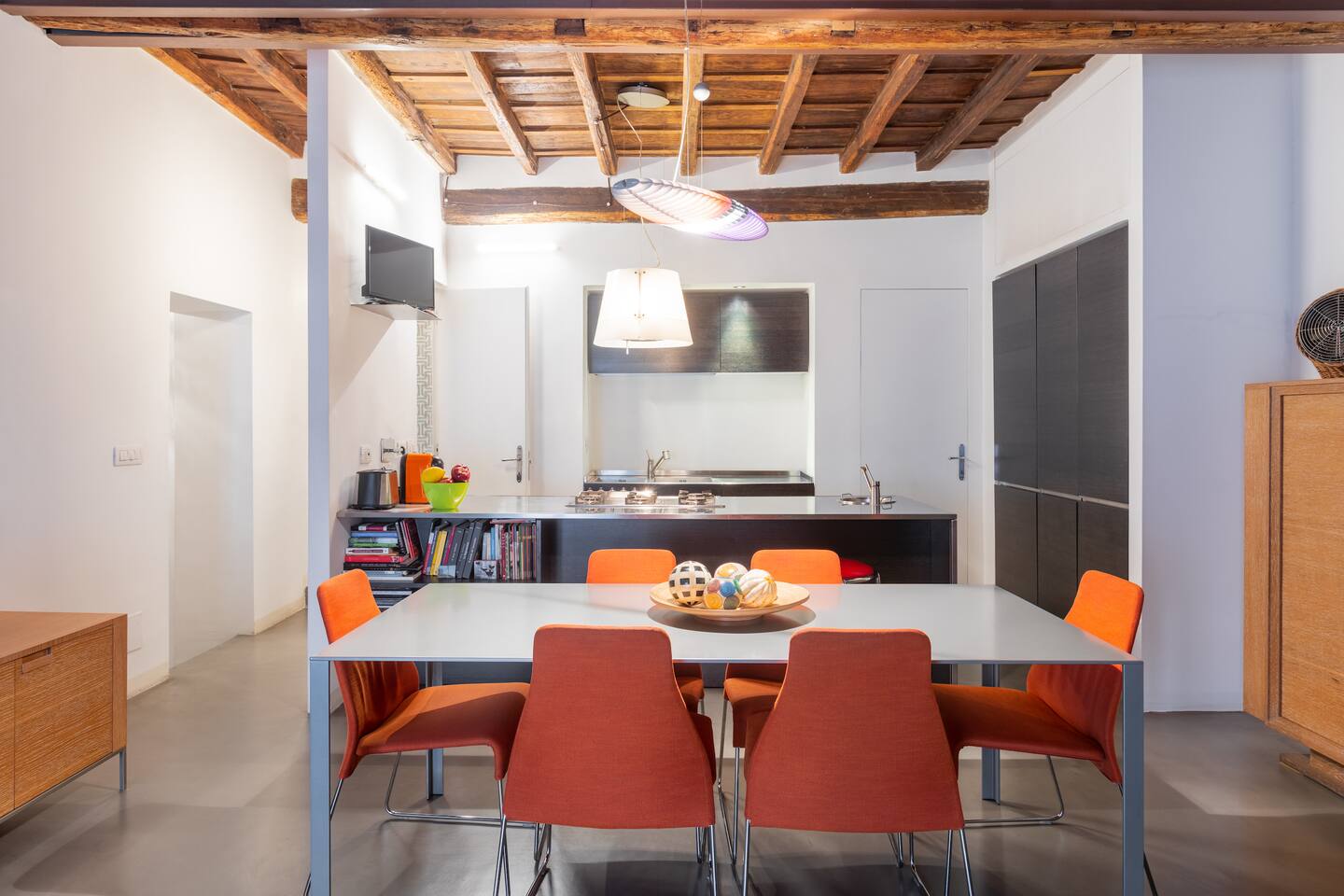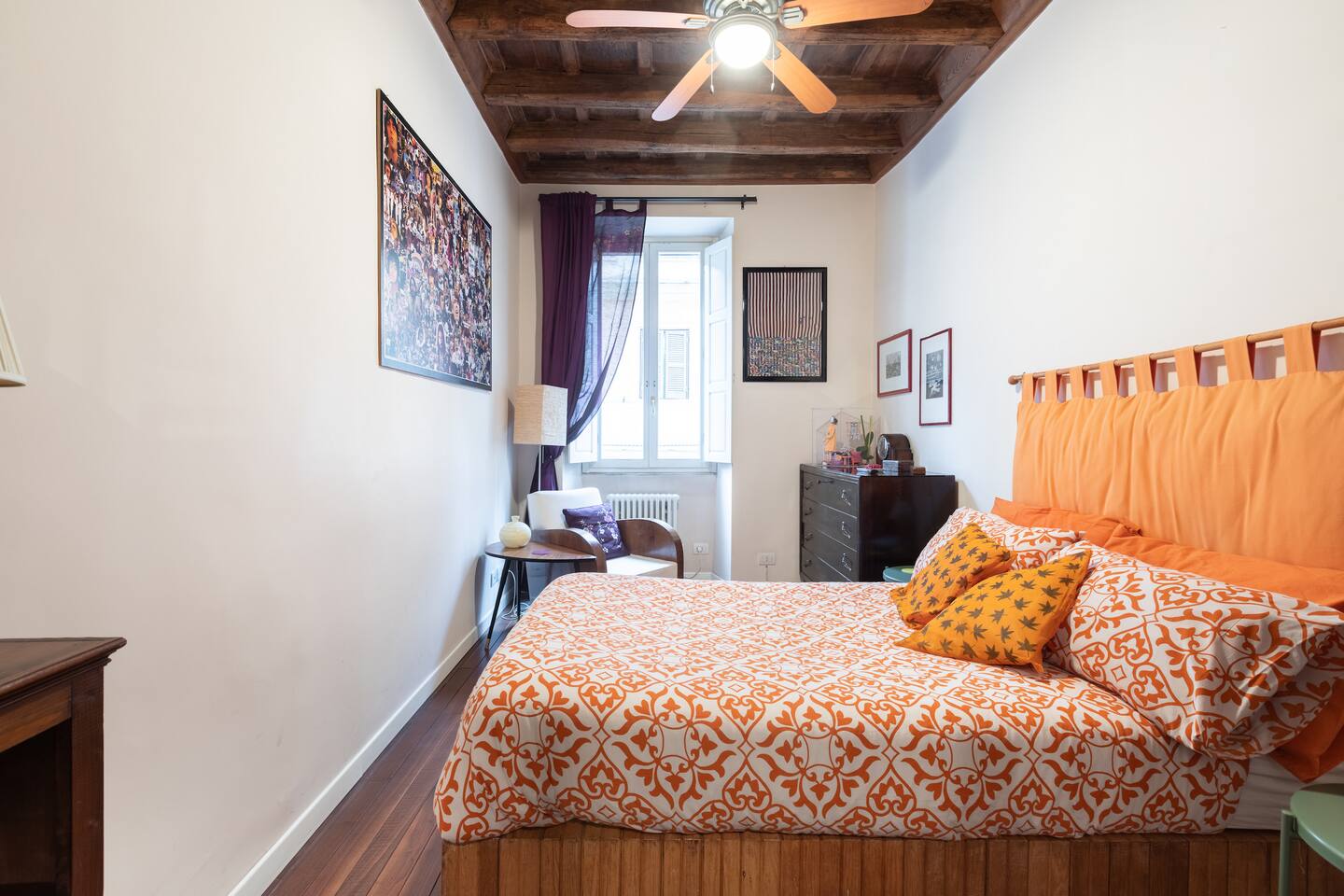 Value
We paid about $140 dollars per night for our stay in Rome. We stayed in Rome for 3 nights, and so split between the two of us, we thought the price was very reasonable. Keep in mind, I had Joel to split the costs 50/50 with me for all of these stays, so it ended up being rather affordable for us and we were able to be more selective of where we wanted to stay. If you're traveling on your own, there are honestly tons of more affordable options in Rome. The price range in Airbnb was between $50 – $300, quite similar to the costs in Berlin. You'll probably spend the majority of your money on food and tours so do keep that in mind.
Overall, I really loved our place in Rome because of its aesthetic and location. I was super comfortable during our entire stay, and we would definitely stay here again if we visit in the future.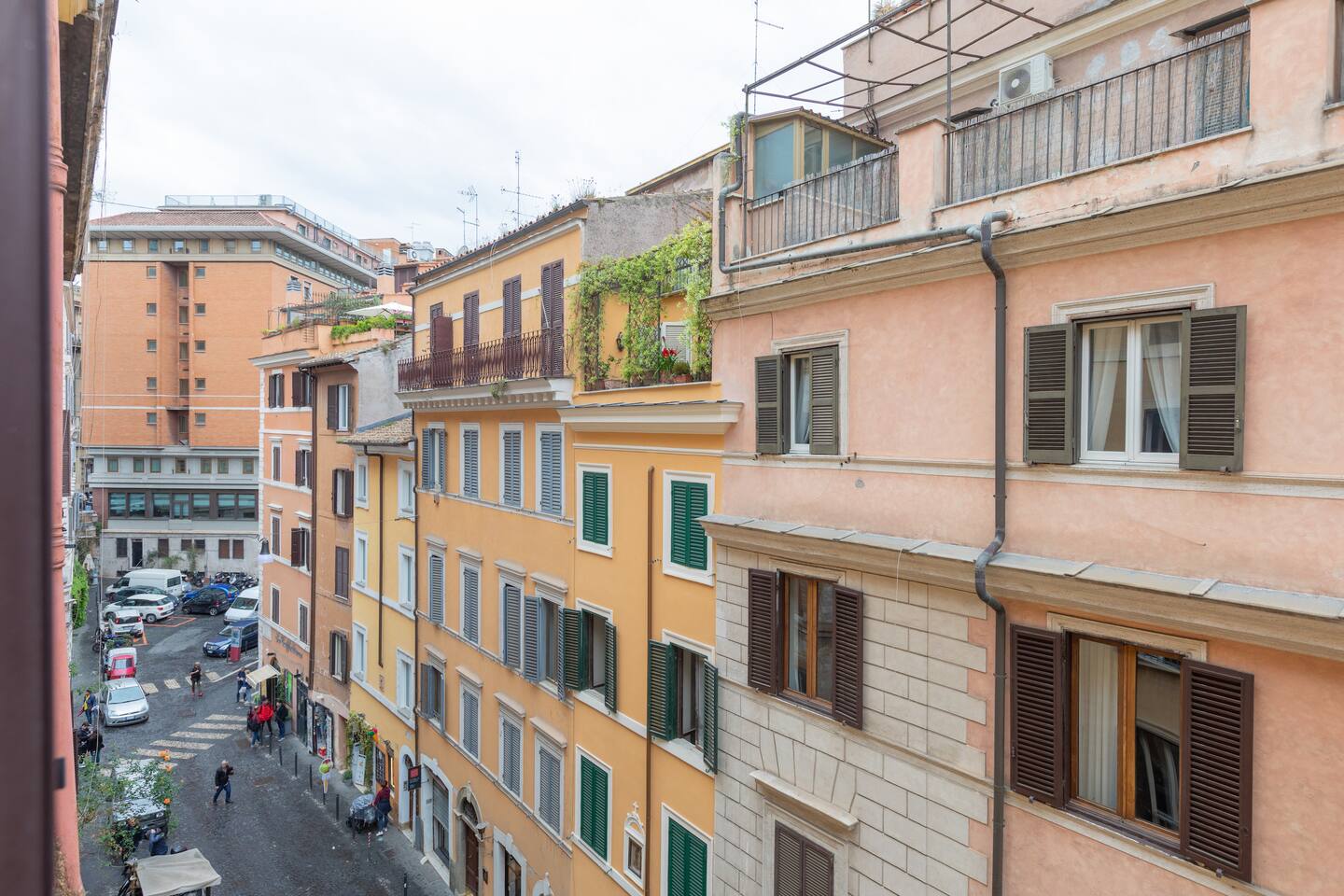 Staying in Airbnbs
Airbnbs are still my accommodation of choice when I travel. I find that typically, you're able to get a wider range of prices and spaces than traditional hotels. In most cities that I've been to, Airbnbs are typically cheaper than hotel options. I personally really enjoy staying in flats while I'm traveling because it provides a more authentic local experience. I also really enjoy being able to see what different apartments and buildings in different cities look like, which gives me a better understanding of how living in that city would be like.
If you haven't tried using Airbnb before, I would highly recommend it. My affiliate link is here if you would like to up and give both of us some credits to spend on traveling! Otherwise, visit Airbnb's home page to sign up and check out their services.